Uncontained: An SCP Card Game
A downloadable game for Windows
Play this game on your device, digitally (last updated today)!

Dangerous anomalies... entities and events of weird and twisted nature are escaping. People are dying.
Save innocent civilians by containing these monsters and phenomena, while getting help from scientists and personnel studying them.
Can you survive until the end? Would you sacrifice a few innocent civilians for the greater good?
The fate of the SCP Foundation and the rest of humanity is in your hands!
FEATURES:
Best with 3 to 6 players (but can support 2-8)
Very competitive & strategic
Light / party card game
82 unique cards
30 - 120 minute play time
100% Anomalous and charmingly indie art designs!

Start by setting up the table and piling up the cards to create the Public pile and the Draw pile.
The Public Pile consists of all civilian cards.
The Draw pile consists of all non-civilian cards like anomaly and character cards.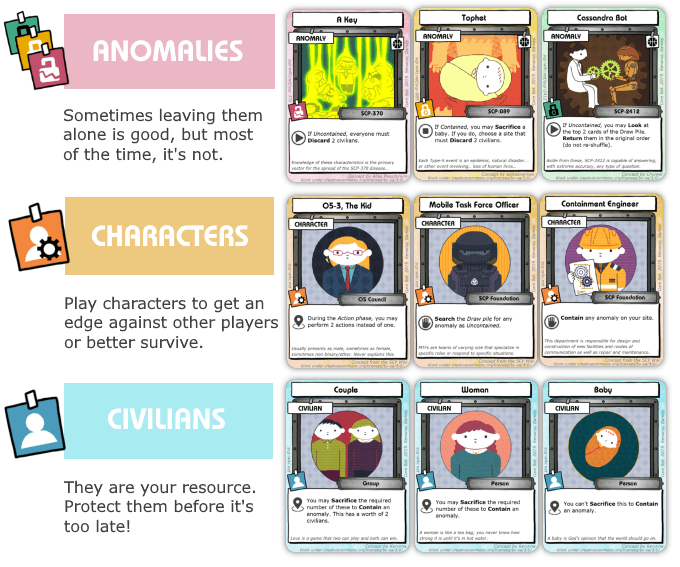 This is the standard table setup: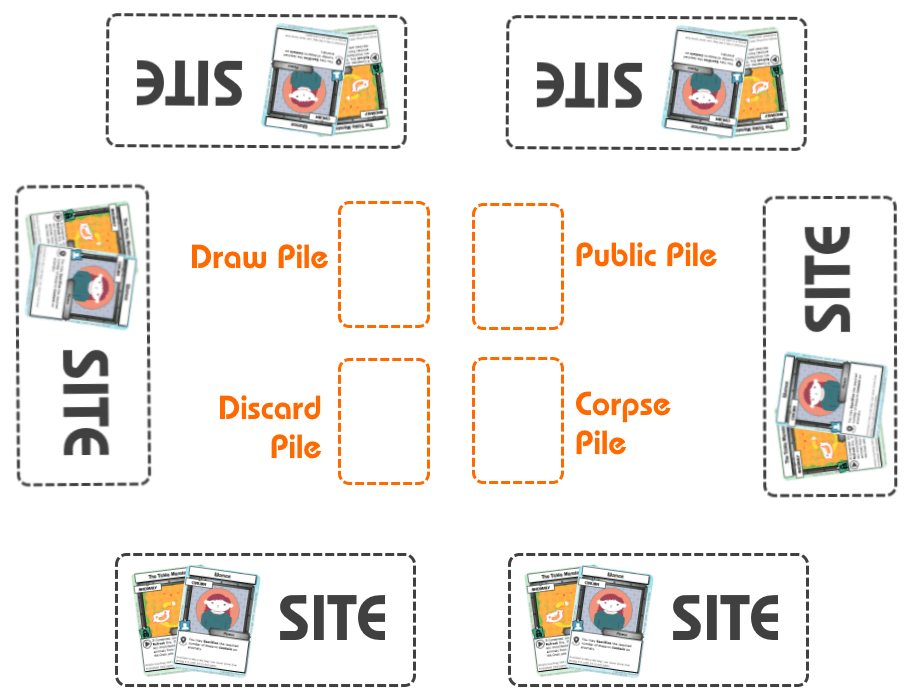 Before actually starting, each player may draw an indefinite number of civilian cards from the Public pile until each of them has 5 single-worth civilians on their civilian zones. (If you drew a family or a couple, return them and draw again.)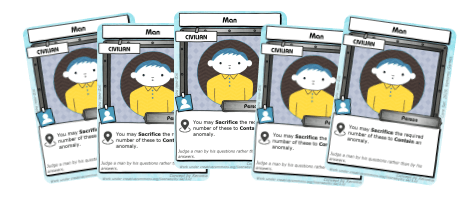 Before anything else, there are 3 main keywords that you must know first:
Draw - get a card from either the Public or Draw pile.
Discard - remove a card and send it to the Discard pile (or Corpse pile if it's a civilian).
Contain - sacrifice (basically Discard) civilian cards to send an anomaly card from your Uncontained zone to your Containment zone.

Any player may then take the first turn, then pass it clockwise or counterclockwise.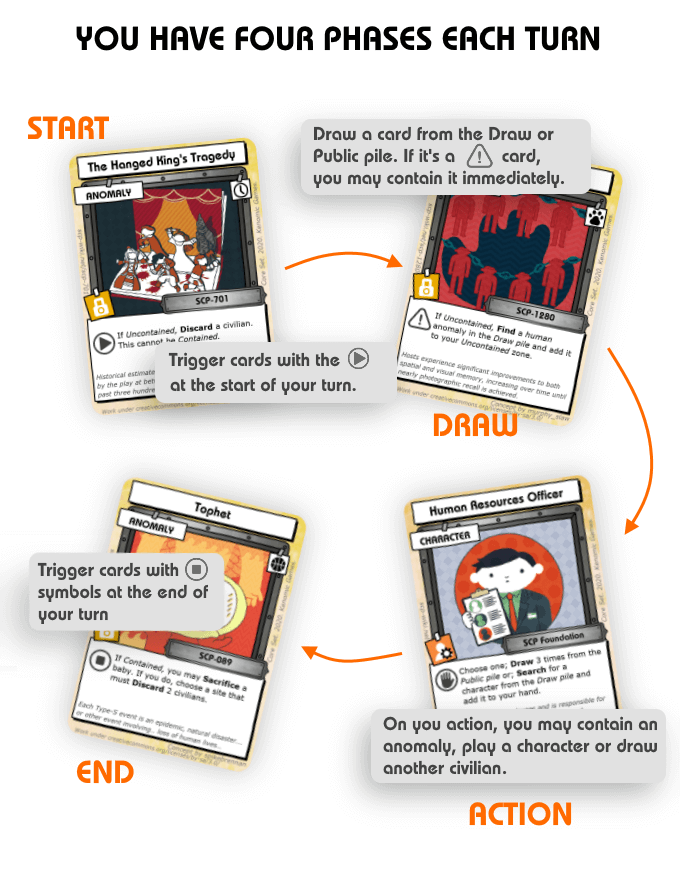 The START phase is the beginning of your turn. Activate all cards with the Start phase symbol .
The DRAW phase is the second phase. You may either draw from the Public pile or Draw pile during this turn.

If you drew an anomaly, you must show it to everyone. If that anomaly has the Breach symbol , you may "Contain" it already during this phase or "Uncontain" it (not Contain it) which makes you Discard it afterwards. If not, add it to your Uncontained zone.

The ACTION phase is the third phase. You have 2 primary choices during this turn:

Do an action.

Contain an anomaly on your site.
Play a character from your hand.
Refresh a card from your site.

Draw from the Public pile.

The END phase is the end of your turn. Activate all cards with the End phase symbol .

Upon drawing an anomaly card during the Draw phase that has the symbols, you must immediately take it to your Uncontained zone before anything else.
Civilians must only go to your Civilian zone. If you already have 9 or more civilians on your Civilian zone, you can't draw anymore from the Public pile. This would also mean you can Steal or Move civilians to your site even if you're already at this limit.
Upon drawing a character card during the Draw phase, immediately add it to your hand. You can only have 5 character cards on your hand at a time, Discard any excess at any time for free.
Played character cards with the Active symbol must go to your Personnel zone (you can only have 2 character cards at a time, Discard any excess for free).
While characters with the Play symbol must be immediately Discarded and sent to the Discard pile after use.
Your Uncontained zone and Containment zone has no limit.
The game will end under 2 primary conditions:
1. When the Public pile runs out the 2nd time (or 1st time for a faster game).
2. When the Draw pile runs out.
A player may get "KNOCKED OUT":
1. If they end their "End phase" with no civilian cards in their civilian zone.
2. If they must Discard a civilian card but have none in their civilian zone.

The winner will be the player with the most points at the end of the game.
Civilian : +1
Contained anomalies:

Safe : +2
Euclid : +4
Keter : +6

For each Uncontained anomaly, you lose points:

Safe : -1
Euclid : -2
Keter : -3

Characters and other anomaly types currently DO NOT award points.

Discard/Neutralize/Sacrifice: Remove a card from play, and place it (face down) the appropriate pile. (Civilians go to the Corpse pile, the rest on the Discard pile.)
Contain: Move a card to the Containment Zone.
Uncontain: Move a card from the Containment Zone to the Uncontained Zone.
Withdraw: Return to your hand.
Return: Return to the Draw pile, then shuffle.
Look: Look/Peak only at the cards, return them but do not re-shuffle.
Find: Look for the first card of a type in the target pile, Take/Draw it, then shuffle that pile afterward.
Search: Look for any card of a type in a target pile. Draw it and shuffle the pile.
Move: Transfer a card from a player's site to another. Whenever an anomaly is "moved", it becomes Uncontained again, unless otherwise stated.
Steal: Take a card and become its new owner.
Play: Use the effects of the card, or add it to your site.
Suspend: Treat the effects of a card as if the text are blank.
Attach/Detach: Place/Move adjacently to a target card. Unless noted: Attached cards do not consume the limit of their respective zones; Attached civilians can still be Sacrificed for whatever purpose; Attached characters still function like they should; When the card to which your card is attached is Moved, Stolen, (Uncontained, Contained), Sacrificed, Discarded, etc, the attached and all attached would inherit the same. Thus, Attach cards at your own risk!
Exhaust/Refresh: Rotate the card by 90 degrees to make them Exhausted. You may Refresh (thus, un-Exhaust) an Exhausted card by rotating it to the original 0 degree position. You may Refresh any Exhausted card on your site for free during the Action phase as your action. Exhausted civilians can't be Sacrificed, Exhausted anomalies can't be Contained, while Exhausted characters can't be Discarded and Suspended.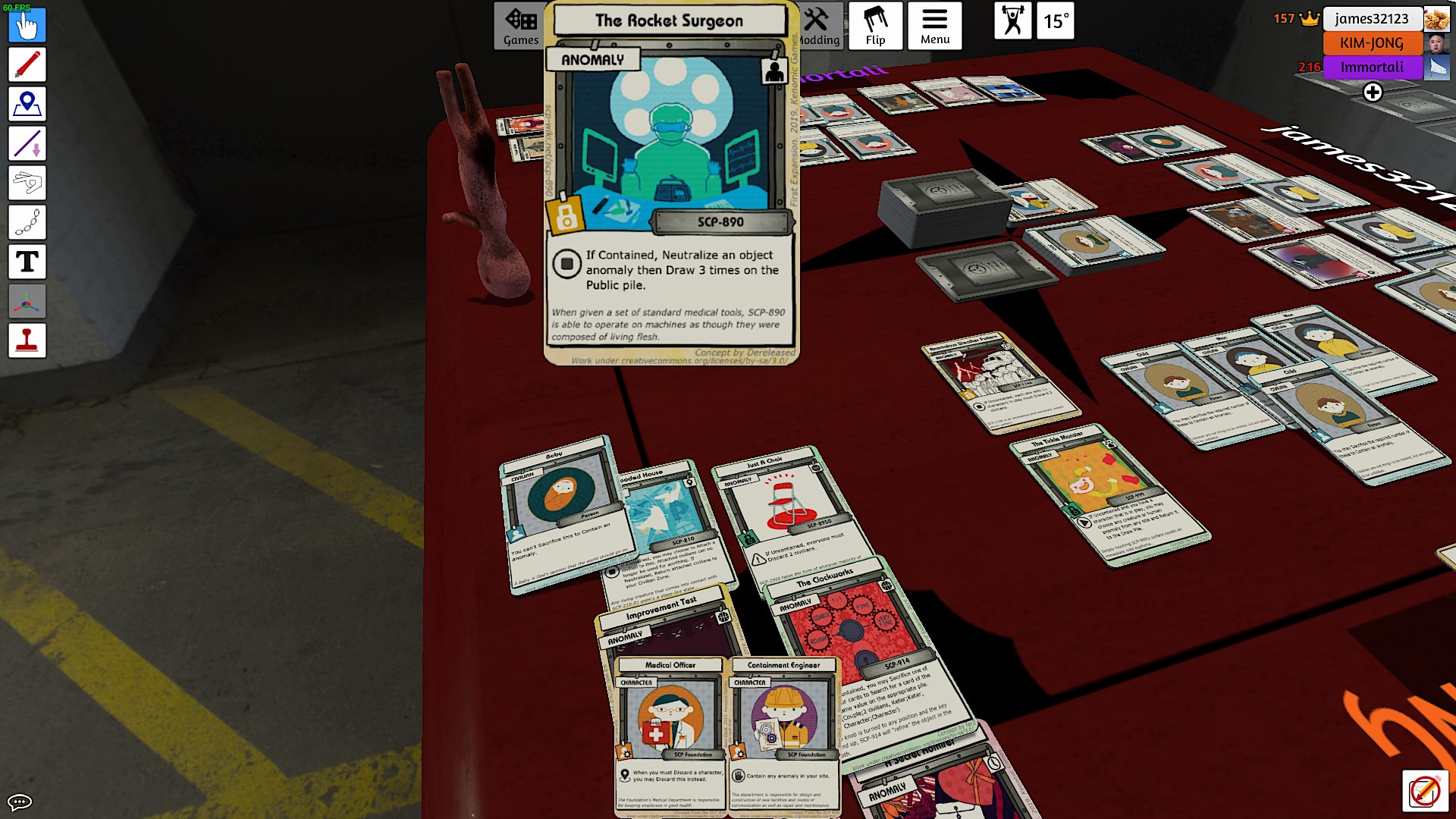 Tabletop Simulator on Steam
JOIN & HELP
If you got any ideas, fill me in on this google form:
https://forms.gle/Ze2PgFu6Utmsiff5A
Also, join our discord server and discuss your ideas with us!
https://discord.gg/Ff9Exju.
Come play with us on Tabletop Simulator!
https://steamcommunity.com/sharedfiles/filedetails/?id=1991281505
Please also vote your opinion on the current art style here:
http://www.strawpoll.me/19167478
CREDITS
All content in this game are based on the SCP Wiki, which is a work under the Creative Commons Attribution-ShareAlike 3.0 Unported License.
All card artworks are from SINSEKAI (with some created exclusively by them for this project during the development period), while the rest (icons, layout, card design, digital demo, etc.) are made by me.

People on the discord server that have assisted on the overall design of the game are Mayødrian#3674, and Lydiens#6723.

@Lulu#2074 handled all of my licensing concerns and other important stuff !
Also available on